They were turning crowds away from the doors on Sunday evening at the Armidale City Bowling Club as the lucky ticket holders inside dined on a feast of cycling achievements from 2015, plus some rather nice chicken wings and spring rolls.
Club president, Rob Tindale acted as compère for the evening, handing over to outgoing Junior Coach and former Vice-President, Karlee McMillan to start proceedings with the Junior awards which went to Rosie Harris and Imogen Hale (C-Grade), Lucy Cook and Jacqueline Tracey (B-Grade), and Tom Simmonds and David Cook (A-Grade). David Cook, Katherine Hosking and Sam King also received Frog Awards for their performances representing Armidale Cycling Club at the NSW State Championships.
Karlee will be moving on next season and her final act as Coach of the Junior riders was to recognise the King and Tracey families for their help throughout the season at the track each Saturday afternoon, and to award Jacqueline Tracey with the Coaches Award in recognition of her consistent attendance and determination to compete throughout the season.
Then on to the Senior awards with President Tindale recapping on what has been another year of over-achievement for the club. Mitch Bullen, Sam Jenner and Sam Munday were singled out for their quite remarkable performances on the national and international scene on road and track.
Unfortunately none of these local stars were able to attend on the night. Mitch was in Queensland winning the Keirin at the Bundaberg International Cycling Spectacular and Sam Jenner was in Victoria competing in the 3-day Tour of Bright. It was therefore Debra Jenner who accepted Sam's trophy as A-Grade winner and Overall Club Champion for the third year in a row.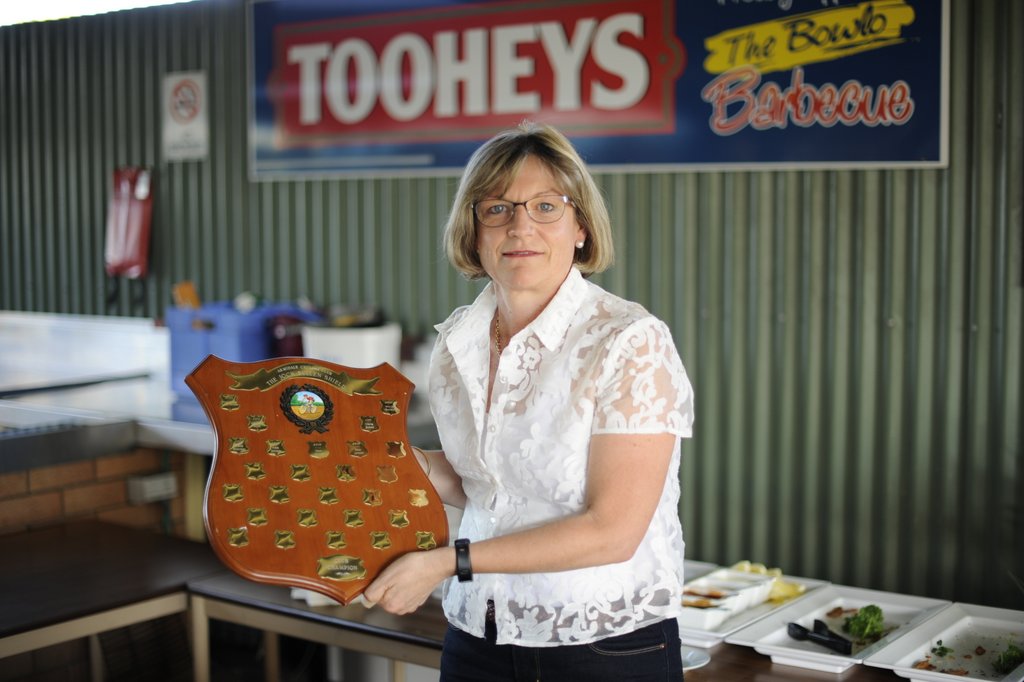 Sam Munday received the A-Grade runners up award and was wished all the very best for his first international season with team Novo-Nordisk next year in Europe and the USA.
B-Grade awards were received in person to great applause for winner Phil Thomas and runner-up Dene Bourke. C-Grade winner Dave Jenner and runner-up Hugh Munday were also warmly congratulated in their absence.
Frog awards, for representing Armidale away from home were presented to Col Maciver, Jeff Flatt, Phil Thomas, Andrew Swan, Jo Wauch and Richard Wilkinson who all competed at the National Masters with more medals finding their way into the Maciver and Wauch trophy cabinets as a result.
Dene Bourke took away another award adding the prestigious Road Racer of the Year 2015 title to his collection following an exciting finish to the competition in October where Dene won by just 2 points on the final race of the season from runner-up Rob Hale.
For yet another year, there was no obvious recipient for the Broken Wheel award, with club riders having managed to stay upright throughout the year. After a bit of head scratching, the award went to Mick Hoult who came off on Boorolong in a club race after his chain jammed on the climb. After dusting himself down and fixing the chain, Mick chased, caught and then attacked and decimated the entire field, demonstrating the power of adrenaline.
Finally, it was time for the Presidents discretionary awards to mark contributions by club members of particular note. Wilfried Keller was awarded Club Person of the Year for his unwavering assistance to the club in his role as secretary, a position he has filled since the previous Swan era. Karlee and Deb McMillan were then awarded the Presidents Award in recognition of their commitment to Junior and Development riding over many years. Their efforts in encouraging younger and less experienced riders to gain skills and enjoy the sport of cycling will be greatly missed. On behalf of the club, President Tindale thanked them both and wished Karlee well as she moves on in her career away from Armidale.
And so, as club members scrambled to get the last chicken wing, the curtain came down on yet another great year of cycling for Armidale Cycling Club. Some amazing performances and results have been achieved by a great cross-section of riders and we look forward to another season of success in 2016.
Further pictures available on our Gallery Pages.
| Award Category | Award | Recipient |
| --- | --- | --- |
| A-Grade | Winner and Club Champion 2015 | Sam Jenner |
| A-Grade | Runner-up | Sam Munday |
| B-Grade | Winner | Phil Thomas |
| B-Grade | Runner-up | Dene Bourke |
| C-Grade | Winner | Dave Jenner |
| C-Grade | Runner-up | Hugh Munday |
| Road Racer of the Year | Winner | Dene Bourke |
| Road Racer of the Year | Runner-up | Rob Hale |
| Frog Awards | Representing ACC Away, Seniors | Col Maciver |
| Frog Awards | Representing ACC Away, Seniors | Jeff Flatt |
| Frog Awards | Representing ACC Away, Seniors | Phil Thomas |
| Frog Awards | Representing ACC Away, Seniors | Andrew Swan |
| Frog Awards | Representing ACC Away, Seniors | Jo Wauch |
| Frog Awards | Representing ACC Away, Seniors | Richard Wilkinson |
| Frog Awards | Representing ACC Away, Juniors | David Cook |
| Frog Awards | Representing ACC Away, Juniors | Katherine Hosking |
| Frog Awards | Representing ACC Away, Juniors | Sam King |
| Junior A-Grade | Winner and Junior Champion | Tom Simmonds |
| Junior A-Grade | Runner-up | David Cook |
| Junior B-Grade | Winner | Lucy Cook |
| Junior B-Grade | Runner-up | Jacqueline Tracey |
| Junior C-Grade | Winner | Rosie Harris |
| Junior C-Grade | Runner-up | Imogen Hale |
| Club Awards | Presidents Award | Karlee and Deb McMillan |
| Club Awards | Club Person of the Year | Wilfried Keller |
| Club Awards | Coaches Award | Jacqueline Tracey |
| Club Awards | Broken Wheel Award | Mick Hoult |