There was some seriously rapid track work at the TEC this afternoon with graded interclub criterium racing following another hugely successful Come and Try Crits event (more on that later). Armidale's Mick Harris won a challenging A-Grade race and Tamworth's Luke O'Connor took out B-Grade. There was also a 3-rider C-Grade race which was won by another native mountain biking Harris who has made the transition to road racing – this time it was James taking out the honours.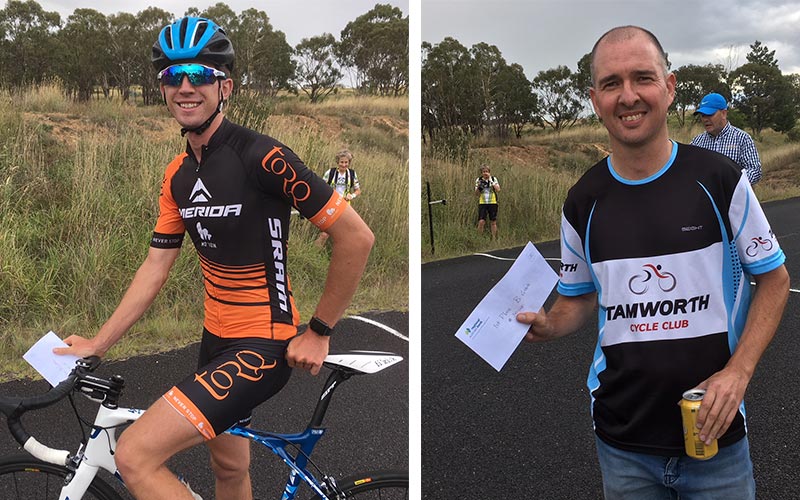 The B-Grade race averaged almost 39kph and with an early attack that almost split the field riders were scrambling to stay with the front markers. It was left to Chris Stace to drag the bunch back together and a brief spell of calm followed. Jason Simmonds and Clint Bourke were clearly having some fun and Rob Tindale also had a strong ride, launching a big mid-race hit up the hill which caused the elastic band to be well and truly stretched. Ultimately the bulk of the bunch stayed together and it came down to a big sprint for the line which Tamworth's Luke O'Connor won by 10 bike lengths despite Clint Bourke being well placed on his wheel at the top of the straight. Clint grabbed second and Carl Hooton pulled off a stunning effort for third place having come from the back of the pack half a lap earlier.
The A grade race resembled 20 rounds with Anthony Mundine with hard attacks being made virtually every lap on the hill, Mick Harris and Inverell's Dan Wilks in particular were hitting off the front repeatedly. After 15 minutes of this the cracks started to appear and riders began to be shelled out the back. Some managed to dig deep and claw their way back into contention such as Angus Apps who had a terrific ride. Brent Rees and Zak Sunderland made sure the trip from Inverell wasn't a wasted effort with some great hard riding but Armidale riders more than held their own in an enthralling contest. Mick Hoult and Pete Harris put in strong rides as ever and Holly Harris demonstrated incredible form and determination to hang with the pack all the way to the end despite picking some suspect wheels to follow at times. Ultimately it came down to a sprint and Mick Harris hit the gas at the perfect moment to pull away from Brent Rees and take the win by a couple of bike lengths.
The tussle for third was very close and Zak Sunderland was awarded the petrol money by the race officials – a worthy outcome after some solid racing from the Inverell rider. However, on closer inspection, it looks like Armidale's David Cook's Sangan-esque throw has just edged out Zak so kudos might just go to the young MTB rider who rode a fantastic race and is showing some great current form.
Congratulations to our race winners and many thanks to the 35+ riders who rolled up in overcast and cooler conditions and contributed to some great interclub racing. Particular thanks to those who traveled from Inverell and Tamworth to support the event. Thanks also to Mark Bullen, Col Maciver and everyone who helped out on the day.