Armidale Cycling Club presents the 2017 Invergowrie Road Race
10am Sunday May 7th 2017, sponsored by Hutchinson & Harlow Real Estate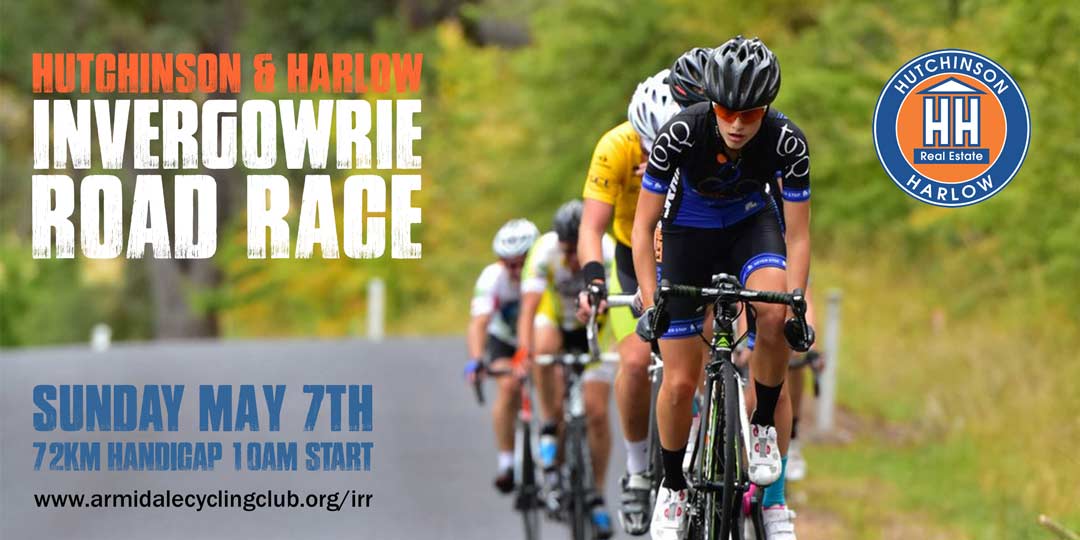 Race Details
72km Handicap Road Race
10am Sunday May 7th 2017, Invergowrie
Single Event open to all riders U17 upwards
Register Online by Wednesday 3rd May to secure your place
Race Entry $20 (pre-registered) or $30 on the line
$1,000 Prize Pool – prizes for 1st to 5th place and for Fastest Time
All Cycling Australia licenced riders welcome
Organisers will accept riders with Racing Day Membership for this event – apply here
Provisional Program – Sunday May 7th 2017
08.30am – Sign-on open
09.30am – Sign-on closes
10.00am – First Riders depart
12:30pm – Approximate race finish
Online Registration
Please jump online and register here to reserve your place. Payment can then be made on the day.
Course Details
This is a brand new 72km course with 800m of climbing – you can view the route and profile here on Strava
The race starts and finishes at Invergowrie Store
Riders head east along Pinegrove Rd at the start and then west along Bundarra Rd and Thunderbolts Way
At around 60km, at the point marked 'x' on the map below, riders head east again on Pinegrove Rd and complete an 11km loop turning South off Bundarra Rd onto Invergowrie Rd to finish at the Invergowrie Store.

Facilities and Spectators
Invergowrie Store will be open from 7:30am on the race day serving hot and cold drinks and a good range of snacks and food
There is plenty of off-road parking and toilets are available
Spectators are encouraged to attend and stay at the Store throughout the race. They will be able to watch the start and finish and also see riders at the junction of Mt Butler Rd and Pinegrove Rd as they commence the final 11km loop. Please do not attempt to follow the race by car.

Further Information
If you have further questions in the lead-up to the race, email info@armidalecyclingclub.org or contact Armidale Bicycle Centre on 02 6772 3718.