Armidale's Sam Jenner has been crowned 2017 Australian U23 National Road Race Champion after riding to an inspired solo victory in hot conditions on Saturday.
Jenner attacked from a lead group of seven riders with a little more than three laps of the challenging Mt. Buninyong circuit remaining. He powered through cramps and pain on those final laps on his own to cross the finish line 47 seconds ahead of a chase group of nine riders to record an incredible win.
A win made all the more satisfying for Sam given the huge amount of work he's put into his riding in the last year, despite setbacks through illness and race injuries last season racing with the Jayco WorldTour Academy over in Europe.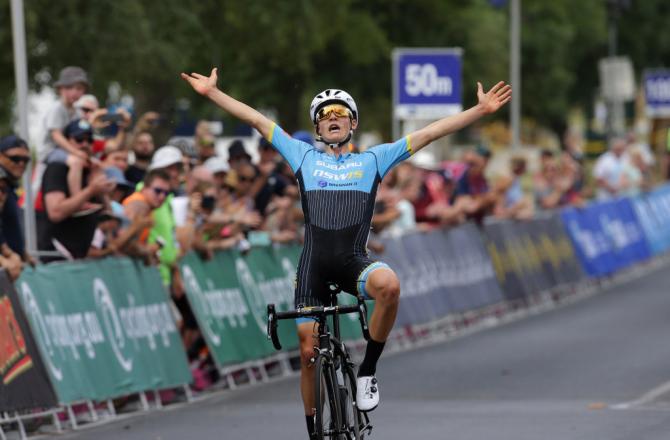 The early running in the 132.6km race was made by a five-rider lead group that formed on lap 3: Ben Andrews, Josh Harrison, Cyrus Monk, Nicholas White and Dan Fitter. That lead group grew towards the end of lap 4 when 17 riders, including Jenner, managed to bridge across, forming a group that was bigger than the rapidly thinning peloton behind.
Dan Fitter attacked solo from the lead group on lap 7, spending roughly two laps out front on his own, before being caught by six from the group behind, including Jenner. A little over a lap later, with just over three laps to go, nineteen-year-old Jenner made his move from the group of seven on the descent of Fisken Road.
"It wasn't really the plan but there was a bit of a lull in the bunch and I thought 'Why not? Time to go'," Jenner said. "So, I went and just backed myself and that's all I could do really."
Behind Jenner, the chase group swelled to 19 riders, with the remnants of the peloton having bridged across. Pre-race favourites Hamilton, Michael Storer and newly crowned U23 time trial champion Miles Scotson were there, but Sam now had an advantage of over a minute.
Despite the efforts of those in the chase group, including Hamilton who attacked on the penultimate ascent of Mt. Buninyong, Sam commenced the final, 10.2km lap with an advantage of 1:20. It was a commanding lead, but it wasn't until halfway through the final lap that he believed he could stay away.
"It was a bit touch and go there," he said. "I started to cramp up the last hill. But I just pushed through it and when I got to the top and still had a minute I thought I'd probably have a really good chance of holding on."
Jenner approached the finish in Buninyong with plenty of time to celebrate, throwing his arms in the air and yelling out in joy as he crossed the line. He was promptly hit by cramp as he came to a stop and needed several minutes to recover before he could make his way to the podium.
Sam has joined a very special group of Australian cyclists who have won the Nationals U23 race previously, names such as Caleb Ewan, Rohan Dennis, Jack Bobridge, Simon Clarke and Simon Gerrans. Congratulations Sam on a truly inspiring, thoroughly-deserved and wonderful victory – the whole of Armidale is hugely proud of you!
Photography kindly produced with the permission of John Veage