Despite a switch to his Dad's conventional road bike, Mick Harris  rode a blistering 20km ITT yesterday on the undulating Dangarsleigh course, winning by 51s at an average speed just a shade under 40kph. The gusting crosswinds hampered progress for all riders although they were a bit more helpful on the return leg which was more of a tail-cross. It was a tough journey out to the lone figure of Bill Mara who lived up to his "ice cold" reputation, gamely manning the turn in single digit temperatures and providing some great shots and time intervals at the half-way point.
Olive Tutt and Jo Wauch were the front-runners, both setting the pace with TT bars and solid rides, but it was Chris Belson who occupied the hot seat first with a 37:07. He was replaced by Chris Stace, then Dene Bourke who held it for a while courtesy of his 35:34.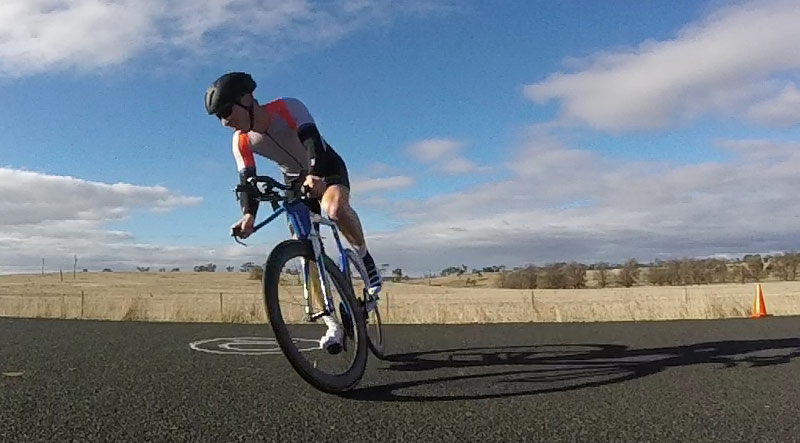 There were some impressive looking TT rigs on display further down the starting order, including one at the hands of Clint who achieved his pre-race objective of "not crashing" in style, and taking almost five minutes off his previous PB on the same course to finish 8th overall.
Johnny had been itching to get going on the course all week and with Houlty and Phil Thomas absent, it was going to be a hard-fought tussle between him and Andy Robb for a podium spot. Johnny went first and rode a clinical first leg of 16:38 into the wind. Andy had a slow start, losing time with a left cleat that wouldn't behave but didn't panic and turned just 4s down on Johnny who probably lost the same amount of time overshooting the turn.
Andy got the better of Johnny on the way home though, with a 14:16 that gave him a 7s margin for the course and second overall. Despite the conditions, both riders secured PBs, Johnny overhauling his 2014 club championships time by by almost 2 minutes.
Note: All prior ITT results can be viewed online in the lower half of the Senior Race Results page
Meanwhile, Mick Harris was ripping through the course, he overcame his minute marker David Cook before the turn, heading for home at 16:15 and then punching out a 13:52 for an average overall speed of 39.85kph and another new PB.
Tom Simmonds rode an excellent second half to the race, one of twelve riders coming home in under 15 minutes. He just edged Cookie by 1s on that leg but missed out on 6th overall to him by 13s.
Congratulations to Mick on the win and to all riders and many thanks to Phil Hess and son who were on sign duty and then raised the bar with an immaculate start line process complete with official UCI 5-second countdowns. Check out this story before you consider attempting to replicate the Hess Success – apparently it helps if you're a musician.
Thanks also to Col for assisting throughout, and to Bill who made it home safely although the conditions probably set his recovery back another week.
| Rider | Bike Type | Place | Start | Out | Back | Elapsed | Avg |
| --- | --- | --- | --- | --- | --- | --- | --- |
| HARRIS Mick | Conventional | 01 | 0:21:00 | 0:16:15 | 0:13:52 | 0:30:07 | 39.85 |
| ROBB Andy | Specialist | 02 | 0:18:00 | 0:16:42 | 0:14:16 | 0:30:58 | 38.75 |
| SCOTT-HAMILTON John | Specialist | 03 | 0:16:00 | 0:16:38 | 0:14:27 | 0:31:05 | 38.61 |
| MUNDAY Dave | Conventional | 04 | 0:22:00 | 0:17:02 | 0:14:27 | 0:31:29 | 38.12 |
| HALE Rob | Conventional | 05 | 0:19:00 | 0:17:18 | 0:14:53 | 0:32:11 | 37.29 |
| COOK David | Conventional | 06 | 0:20:00 | 0:17:43 | 0:15:13 | 0:32:56 | 36.44 |
| SIMMONDS Tom | Specialist | 07 | 0:11:00 | 0:17:57 | 0:15:12 | 0:33:09 | 36.20 |
| BOURKE Clint | Specialist | 08 | 0:09:00 | 0:18:18 | 0:15:25 | 0:33:43 | 35.59 |
| FREEMAN Hayden | Specialist | 09 | 0:17:00 | 0:18:19 | 0:15:25 | 0:33:44 | 35.57 |
| SWAN Andrew | Conventional | 10 | 0:15:00 | 0:18:20 | 0:15:34 | 0:33:54 | 35.40 |
| THOMAS Alex | Specialist | 10 | 0:08:00 | 0:18:11 | 0:15:43 | 0:33:54 | 35.40 |
| FERRIS Pat | Conventional | 12 | 0:10:00 | 0:18:27 | 0:15:45 | 0:34:12 | 35.09 |
| BOURKE Dene | Specialist | 13 | 0:04:00 | 0:19:21 | 0:16:13 | 0:35:34 | 33.74 |
| HOSKING Peter | Conventional | 14 | 0:14:00 | 0:19:10 | 0:16:25 | 0:35:35 | 33.72 |
| JONES Mitchell | Conventional | 15 | 0:13:00 | 0:19:59 | 0:16:09 | 0:36:08 | 33.21 |
| STACE Chris | Conventional | 16 | 0:03:00 | 0:20:06 | 0:16:34 | 0:36:40 | 32.73 |
| WILKINSON Richard | Specialist | 17 | 0:06:00 | 0:19:59 | 0:16:42 | 0:36:41 | 32.71 |
| CREAGAN Peter | Conventional | 18 | 0:05:00 | 0:19:59 | 0:16:58 | 0:36:57 | 32.48 |
| BELSON Chris | Conventional | 19 | 0:02:00 | 0:20:11 | 0:16:56 | 0:37:07 | 32.33 |
| FLYN Greg | Conventional | 20 | 0:12:00 | 0:20:20 | 0:16:52 | 0:37:12 | 32.26 |
| WHITFORD Paul | Conventional | 21 | 0:07:00 | 0:19:11 | 0:18:57 | 0:38:08 | 31.47 |
| WAUCH Jo | Specialist | 22 | 0:01:00 | 0:21:06 | 0:17:24 | 0:38:30 | 31.17 |
| TUTT Olive | Specialist | 23 | 0:00:00 | 0:21:36 | 0:17:46 | 0:39:22 | 30.48 |