Despite confident expert predictions, the rains didn't arrive until late evening which meant plenty of activity on the track today.  The junior racing saw copious amounts of water drunk with hot and windy conditions not ideal for the riders.  And Christmas came early thanks to Georgie Harwood who sent down a box of goodies from Bris-vegas for the juniors – it was very gratefully and very well received and no doubt a range of new items of kit will be on display next week.  Thanks also to PC, Swanny and Theron for shepherding Zach Hale around on his first laps on a "proper" racing bike with gears, brakes and the ground all well out of reach, causing Andrew Harris to demonstrate a rare skill of high-speed-bike-catching on the pitt straight – thanks Harry!
The seniors assembled themselves in decent numbers again this week with Mr President himself taking care of proceedings.  A brisk all-in Italian pursuit would be followed by a 30-ish minute plus 2 laps criterium split into A and B grades.  The record keeping was a little lax this week again with the photographer trampling around in the grass avoiding snakes, but essentially Johnny Scott-Hamilton and Jason Blanch brought up the final half-laps for their respective teams.  With 3 riders to go it looked like Blanchy's team would win it by a country mile with Andrew Kirk and Harrison Munday delivering it on a plate, but strong rides from Andrew Swan and Phil Hess gave the new lean-looking vegetarian Cannibal enough of an incentive to go hard and almost pull off a great comeback.  First blood Blanchy.
The graded criterium was a more watchful affair with the groups well established although Tad Davenport seems to either enjoy suffering, or needs to have words with the handicapper as he found himself in a strong A-grade bunch again which took delight in consigning him to another hard individual time-trial. B-grade were rolling turns but running at a good steady clip so that everything there was pointing to a final bunch sprint. A-grade however was a different story entirely.  Harrison decided the pace wasn't hot enough so launched an audacious attack after a couple of laps and gained a decent 30 metres or so before being calmly swallowed up on lap 4.  Not content with that, he went again a little later and this time Swanny went with him and the two again pulled out a sizable lead for a lap or two but with Blanchy, Johnny and Kirky sitting in the bunch, there didn't seem to be much long-term danger there. Entertaining for the spectators though.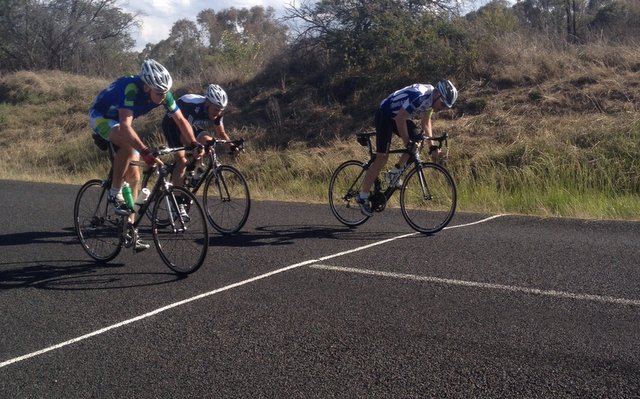 The B-grade sprint did indeed eventuate and with the Captain audibly snorting from the top of the road, it was going to be a big one. PC led them up the final hill and still somehow had the front round the bend and half-way down the straight, holding the perfect line on the leeward side of the track.  With Billy Mara and Dene Bourke chasing, it all came together on the line when Bourkey popped out and grabbed victory by half a wheel from a very persistent PC with Billy only half a wheel further back.
With A-grade rapidly punching through their final 2 laps it all came to a rather rapid conclusion and with the big turbines whining a bit of disruptive B-grade traffic gave Kirky the perfect opportunity to demonstrate his beautiful grasp of several European languages while Johnny had no such problems, gaining sweet revenge with a well timed and well-earned victory.
Check out some shots of the day over on our gallery pages.