Eighteen year old Sam Munday is another young Armidale road cyclist working hard to establish himself with a professional world cycling team. Currently a member of Team Novo Nordisk's (TNN) Development Team, Sam just came back from New Zealand having raced in the UCI 2.2 NZ Cycle Classic. We managed to catch up with him to have a chat about what he's been up to and perhaps surprisingly, it isn't just about being on two wheels.
At the end of 2016 Sam was at a training camp in the Dominican Republic involving some pretty interesting activities totally unrelated to cycling. TNN collaborate with the organisation Hope Sports, who take professional athletes to very poor communities to build homes, and Sam's team – both cyclists and staff – built three houses within a small community over a few days.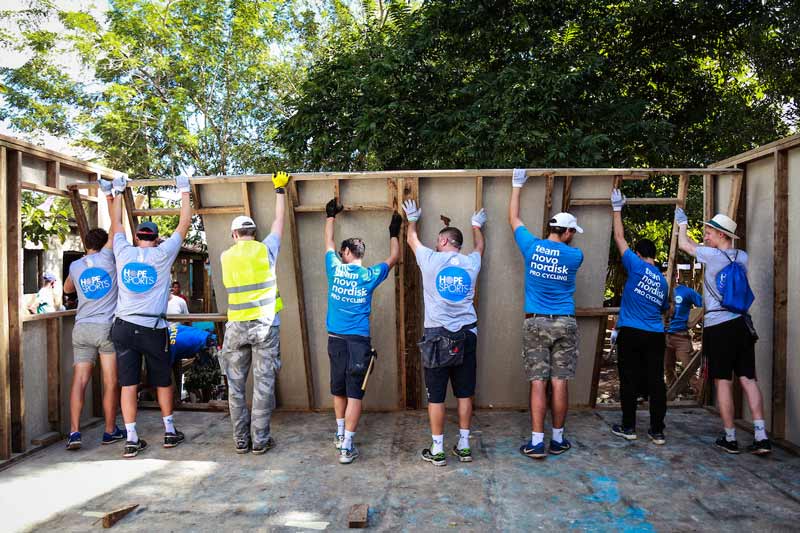 "It was an incredible experience" says Sam, "of course we developed greater teamwork and communication skills as a result, but I think what we did also really benefited these people.  It was pretty special and something that has made me even more grateful for the life I live. At the end of the day, it is all about our perspective, training hard day after day is no battle compared to the life those people live."
If he wasn't wearing the distinctive TNN kit at our club races, most people would have no idea that Sam, along with everyone else racing for TNN, has diabetes. It gives something of an insight into his character that Sam doesn't dwell on it and his motivation and determination to succeed is impressive.  People with type 1 diabetes aren't able to produce insulin which which is something we all need to get sugars from our bloodstream into our body cells where it can be used. So how can Sam and every other TNN rider compete at such a high level given this situation? "Being organised and prepared is essential, it's really important for all of us to test our blood sugar levels many times throughout each day and inject insulin when necessary. I always carry at least 80g of carb with me while training in case problems arise with my sugar levels. It is also very important for us to have a balanced healthy diet. Eventually, these little things become a habit but being well-organised and knowing to take a moment before taking action, both on and off the bike, allows us to succeed with racing with diabetes."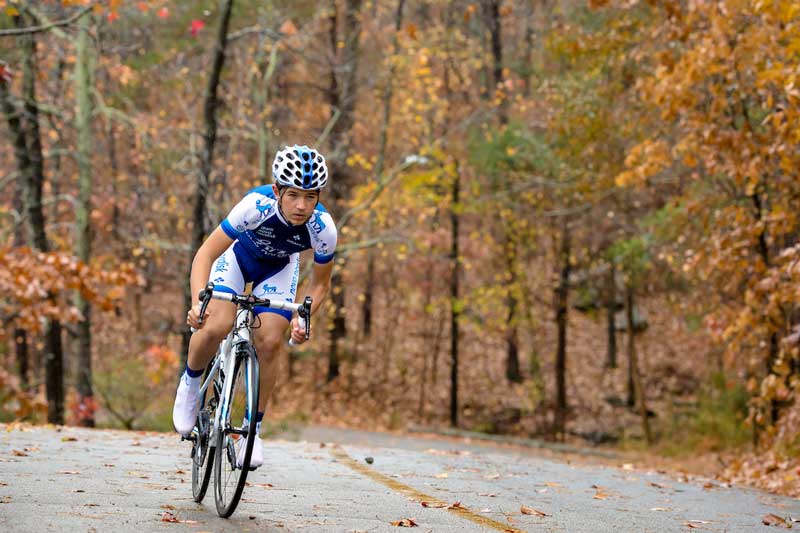 Novo Nordisk was represented by five young riders from their Development Team at the NZ Cycle Classic last month. The classic is a UCI 2.2 Continental race, which means it is a stage race with international teams in addition to local and continental ones. For Sam, it was his first non-junior UCI race, so he was pretty excited to compete and race against some top international riders. So how did the big name teams and riders go? "There were a few UK riders racing, predominately from the JLT Condor Team, including Olympic track champion Ed Clancy. Team JLT won three out of the five stages and performed exceptionally well with overall victory going to Joseph Cooper of IsoWhey Sports SwissWellness, an Australian Continental team. I think the bigger teams performed as expected, however a few were caught out on Stage 4 in the crosswinds, missing the front bunch and also the chance to stay up there in GC contention."
It was the first UCI race for most of Sam's team so their objective was to get through, learn as much as possible and gain more race experience. Teammate Scott Ambrose had raced for TNN's professional team for two seasons including World Tour events but this was his first race back after a bout of knee injuries, so his expectations weren't too high. He managed to take the Best Young Rider white jersey (best young rider) on Stage 1 and ended up finishing third overall in the U23 division. Not bad considering his circumstances of late!"
The Cycle Classic was a 5-day race based around Masterton north of Wellington with some pretty tough stages. "The weather was quite out of the ordinary for summer, with most days being wet and super windy. We were riding in 100km/h wind gusts and rain on the first and fourth stages, so that sure did cause a bit of chaos! The weather played an important role in shaping the race, especially during cross wind sections." Sam had a good day on the third stage, "…it was a 140-kilometer stage including nine laps of an 8-km circuit. It was fast from the start. By the time we hit the circuit, I had good legs. I just held a good position during the circuits and started to move up right towards the front with about three laps to go. This gave me good position so I could respond when the pace kicked up in the final kilometres. In the bunch sprint, I was able to sneak away with 13th."
Diabetes management during a race is crucial and it can be tricky in an extended-duration stage race where blood sugar levels can fluctuate dramatically if not properly managed. We asked Sam how he actually monitors his levels and as you'd expect with modern-day cycling, there's some pretty cool technology involved. "The team uses continuous glucose monitoring, which monitors our sugar levels nonstop. It has two parts – a sensor inserted subcutaneously under the skin and a receiver that displays our sugar levels. We carry these receivers and check our sugar levels many times during a race. It makes things a whole lot easier, especially whilst racing. If my levels are low, I need to either eat or drink something with carbohydrates and if they are high, I take insulin. We also have a team doctor with us at every race, reporting to them about how we felt and what our sugar levels were can help us recognise any issues and determine ways to prevent them from happening next time."
Last year Sam travelled and raced with TNN in Europe and the USA and he's headed back to the states next month once again to race with the Development team. There is a lot to think about and plan for and although TNN are clearly a highly professional and supportive team, some things are left to the riders to organise. Sometimes that's where things don't always go according to plan and it's good to hear these highly focussed, motivated athletes still make mistakes like the rest of us! "Last year in the USA one of my teammates left his passport in his suitcase while in route to race in Canada. We were flying whilst our luggage travelled in the team van, which left a day early. It wasn't until the morning before the flight that he realised his bag, and consequently his passport, were actually already in Canada.  Another time, a teammate only remembered to pack a long-sleeve jersey, so he had to race in the middle of summer in long sleeves!"
TNN continues to race in high profile world cycling events. The men's pro team have just finished the Dubai Tour and will race at the Abu Dhabi Tour next followed by Tirreno-Adriatico and Milan-San Remo. Sam will be heading to the USA in March, based with the development team in Athens, GA, he will race all over the USA and then follow this up with more UCI races in Europe.
The TNN story certainly is an inspiring and empowering one. Co-founder and CEO Phil Southerland's vision to change the way the world views diabetes is alive and well and we are fortunate to have Sam as a local ambassador right here in Armidale. No doubt we'll hear a lot more about his journey and career in the coming year and we wish him and the TNN team every success along the way.
Many thanks to TNN for their support in creating this post and to Harolin Oritz and Justin Morris for the Dominican Republic and NZ Cycle Classic images. For more information about Team Novo Nordisk, go to teamnovonordisk.com, and just in case you need any further inspiration from these young athletes, check out this video on the work they did in the Dominican Republic at the end of last year.