Colin Maciver, stalwart of Armidale Cycling Club, has chosen to hang up his racing wheels after over three decades of competitive cycle racing. It's an impressive career by any standard from the man who traveled with his young family from the Western Isles of Scotland to settle in Australia in 1985. What follows is a record of the achievements, and just a hint of the character behind them, by someone who has been a quiet inspiration to so many people within Armidale Cycling Club and beyond.
Col went along to an Armidale Cycling Club Carnival on Rockvale Road in 1986 and thought, "I need to be doing more exercise and that looks like a bit of fun, I'll have a go at that". So he popped into Jock Bullen's shop in Marsh Street and bought himself a steel-framed, steel-wheeled Jock Bullen Special, shod with chunky 1.25″ tyres and never looked back.
"Back in those days there was a really good structure for riders who wanted to compete", reflects Col. "Regional clubs with their club races and annual carnivals offered a great competition programme. Then there were the stepping stone goals for riders who could go on to race in the Northern Division, NSW Country, NSW State and National Championship events. We don't have that structure any more, it now goes straight from club level racing to state level racing which is a real shame."
In the eighties Col quickly went through the ranks at club level and within a couple of years he had a crack at the Northern Division Championships, winning bronze in the road race in 1989. He got his first gold medal in the Individual Time Trial two years later, and a silver the following year in the same event. That year, 1992, he also raced in the Country NSW competition and took out silver in the road race.
After a flurry of golds in the Northern Division, he entered the NSW State Masters in 1995 and won the road race at his first attempt. The boy from the bush turned up at Calga on the old Pacific Highway near Gosford and took the race by storm with his rivals later commenting "bloody hell, he just stuck it in the big ring and went off like a scalded cat." A year later he went back and did exactly the same thing, "they didn't learn" reflects Col with a wry smile. That was in the highly competitive Masters 4 category while in 2017 he was competing in Masters 9.
You won't hear him talk about it, but if you look at the records you'll spot something quite amazing. Not only has Col raced in all of the NSW State Championship competitions since 1995, he's won at least one medal in every single one of them. That's a total of 58 medals in 22 years of state-level competition, including four years when he achieved a clean-sweep, taking out gold in all events. It doesn't stop there either, he's also entered every State Masters Hill Climb Championship since they started in 2002, latterly at Mt Panorama in Bathurst, but previously at Mount Sugarloaf near West Wallsend, Newcastle. Here's the standout statistic though, he's won all but one of them – he was second in 2003.
Col has particularly fond memories of his 1995 season. Aside from being the year he grabbed the first of his 38 NSW Masters gold medals, he competed in Open B Grade in the Inverell Two-Day Tour and the Armidale Annual Road Race, starting at the Invergowrie Store. Col was first in the former event and second in the latter to a very promising youngster from Inverell who was viewed as too young to compete in A-Grade. That youngster, who went on to slightly bigger things in Europe shortly after, was Heinrich Hausler.
Reinforcing 1995 as his breakthrough season, that year Col won the Coonabarabran to Gunnedah 110km Handicap Race. "It was called the Sundowner then, now known as the Keegan Downs Memorial". Off a favourable handicap, Col took full advantage on that day. Racing with a very good working bunch, including some of the top women cyclists, he rode off the front as they started to tire up one of the last hills with around 20km to go. He soloed to a 5 minute win over his starting group who still had a few minutes lead over the hard charging main field. Although Col considered his handicap may have been a bit soft in retrospect, it was the start of better performances. "I put in a hard sustained effort over the last 20km, riding at over 50kph along a flat section of road and I remember thinking the bunch would have to be really moving if they were going to catch me. I had a motorbike rider nearby and they kept me informed of the gaps and the bunch was not closing fast. That was good for moral and it certainly spurred me on."
"Back in the 80's and 90's we didn't need to worry about putting signs out for racing, we just got on and raced, and there were a lot more youngsters in the club racing on the road at 10 or 11 years old then too" says Col, who firmly believes that we need to get younger riders into road racing if the sport is going to survive in regional Australia. His advice for any younger riders who might be interested is to not think too far ahead. "Just take one step at at time and be realistic each time you set a goal, then move it up a step when you achieve it. That's what Armidale riders Geoff Straub, Pete McDonald, Mitch Bullen and Sam Jenner did and it worked well for them. I do remember when Mitch used to race on the road and could get up the hills, he had an impressive range of ability to be a National Sprint Champion on the track and also win our tough 100km Mount Yarrowyck Road Race."
A past winner of the Mt Yarrowyck race himself, Col also believes you shouldn't worry too much about the bike you ride. "I can go nearly as fast on my old heavy steel Colnago as I can on my current custom made lightweight racing bike. A top of the line bike is nice but not essential."
Success has also come at Australian Nationals, evidenced by the overflowing lycra drawer and the impressive associated medal tally. In 17 years he's acquired 32 Nationals medals (11 of them gold) taking out the ITT and road race double for three years in a row from 2014 to 2016. He's also been crowned National Australian Masters Champion of Champions four times (an award given to the rider who has accumulated most points over the ITT, road race and criterium events combined).
His very first medal at Nationals was a gold and those who know him from Armidale club racing won't be surprised to hear it was in the time trial, something he consistently excels in at club level. On that basis you might think it's his favourite event, but he'll quickly put you right on that front. "Although I have had some success in time trials, it's a love-hate relationship. They are a hard but true test of ability and it does feel great when you've done a good one" he says smiling, then quickly adding, "after you've finished that is!" Road racing is without doubt his favourite discipline though, followed by the ITT with the criterium (which he refers to as a toy road race) a distant third.
Exploring the appeal of road racing reveals that this canny Scott is also a master tactician. "I love it because it doesn't just depend on cycling ability, in road racing you use tactics to maximise your own strengths and to take advantage of your opponent's weaknesses. My best results have been on a tough course with a testing hill to be attacked near the finish."
Not surprisingly, Col is a well known figure at State and National events and his fellow racers have a huge amount of respect for the man, however Rod Price of Hunter Valley summed up their feelings recently when he learned of his retirement. "I will sort of miss him" he said, with a smile. Col has ridden with some great names in cycling over the years and he is pictured below with two legends of Australian cycling after his last race at the 2017 National Masters road race, former Herald Sun Tour winner and multiple Masters Track World Champion Keith Oliver, and Munich Olympics silver medalist in track pursuit and 5 times track world champion Danny Clark.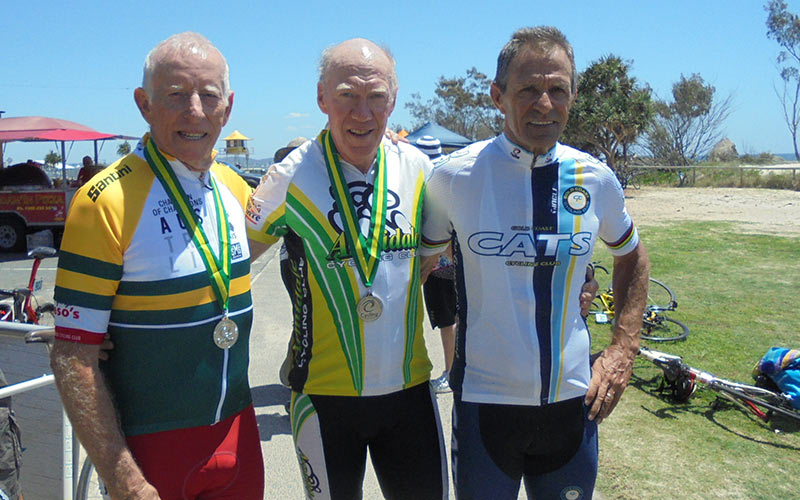 Recalling memorable names from a 30-year career presents a problem in that the list is virtually endless and it's an impossible task to mention even a fraction of the riders Col has known and raced with. His recall is impressive however. When prompted, he'll readily rattle off the key moments, seemingly of any race, naming the main protagonists and delighting in describing so many of the great racing moments he has been involved with over the years.
Not one to chase the limelight (indeed it took some persuading to get him to tell his story), without a doubt some of the fondest memories for Col are the ones that aren't about him. Watching his son Iain achieve 2nd place in C Grade at the age of 20 in the 1995 Grafton to Inverell, and a young Mick Hoult win B-Grade in that same race a few years later are clearly very special moments. There wouldn't be many people more happy than Col when Sam Jenner won the U23 Road Nationals earlier this year and his delight at watching Mitch Bullen's win in the National Track sprint in 2013 and Holly Harris's mountain biking victories at Junior and U23 Nationals is still apparent today from someone who knows how much hard work goes into those achievements. Holly did try to twist Col's arm at the end of the Boorolong Handicap last month, suggesting he should take up mountain biking now that he's got a bit more time.  "It's heaps of fun and you'd go really well!" she said.
While Col didn't manage to compete in a UCI Masters Road World Championship, he did make it to three World Masters Games. The first was in Brisbane in 1994, he finished 4th and was the first Australian in the hill climb up Mt Cootha behind a Dane and some South Africans. He fared even better in the second effort in Melbourne in 2002. Racing in MMAS6 with over 100 in his age group, Col won a bronze medal in the ITT behind Denis Fahey and Chas Matters but in the road race was caught up in a big crash and lost contact with the front of the race. The third time was in Sydney at Eastern Creek Raceway in 2009, now in MMAS8 and still part of a very large field, Col medalled twice again with a bronze in the ITT behind Denis Fahey and Robert Taylor and another bronze in the road race behind Keith Oliver and Geoffrey Marshall.
Closer to home, the New England region has historically produced an incredible number of strong local club riders, and Col has plenty of great racing memories in the region and he quickly reels off just some of the riders and characters he's raced with. "My introduction to racing in the 1980's in Armidale principally involved the Elliott family, Mark, Ashley and Anne racing and Dad Ian supporting. Then we had the Wilcher family, Andrew racing and Dad Jock supporting, the Doherty family, Chris and Steve racing and Dad Terry supporting, and of course there were also the Cobcrofts, where Nick and Mum Anne both raced.
On to racing in Armidale in the 1990's, Peter Wilkinson was always the one to beat. Other names from that time that Col has locked handlebars with in his early racing years were Ian Pringle and Robert Dwyer from the now defunct Glen Innes club, Ian Manton, Mick Hoynes, Darren Halliday, Aaron Portass and Bruce Sunderland (demon sprinter and father of Scott and Peter) from Inverell Wheelers, Noel Mathiske, Mark Jarvis (now Tamworth), and the Sutton and Clissold families from Moree plus ex-olympian Geoff Skaines originally from Moree. Alan Spokes Tamworth, Gary Cameron Coffs Harbour, Gary Cropper, Gary Reardon and Mauri Kautto from Grafton are just some of many, many more that have shared happy times on the road with Col.
When pressed, Col will also tell you a bit about some of his other personal achievements on two wheels, like the time he was awarded an Australian Sports Medal in 2000 to commemorate the Sydney Olympics, that one was signed by the PM and Governor General. It says something about the man when he can't remember how many Grafton to Inverell races he's ridden "something like seven or eight", he'll say, "I did get a 2nd place in the over 45 category one year and my best time is a couple of minutes over 7 hours. I never could get up the Gibraltar Range climb with the front bunch in C Grade but often managed to get back on over the top in the second bunch".
On the local sporting scene, Col has had numerous "Sports Star of the Week" and "Annual Finalist" awards from Armidale's 2AD Sports Awards run by that stalwart of sport in Armidale, Steve McMillan. These culminated in being awarded Armidale Senior Sports Star of the Year in 2009 after his first win of the National Champion of Champions jersey at the National Masters in Canberra which he recalls as a very hard course. On top of that he's had two Armidale Senior Sports Awards in 2015 and 2016 at the Australia Day Awards. Not surprisingly his pool room is well-stocked with all that memorabilia, including two very special ones; a club award for achievements in 2009 (the clock in the picture below) and the Club Life Membership award which he received in 2013.
The list could go on but it's clear we are celebrating the career of a quite unique and special character and a high sporting achiever that has contributed significantly to the history of Armidale Cycling Club. So what is the lifetime ACC member planning next, and more importantly, will he actually be able to resist the temptation to race just one more time? The great news for Armidale club is that although he really has finished racing, Col fully intends to keep riding his bike, mainly for health and fitness with a group of retirees who enjoy regular rides most days of the week. Affectionately tagged as the OAPiLs (Old Age Pensioners in Lycra) and predominantly made up of ex-racers, they maintain an impressive clip around the lanes and just occasionally have been known to sprint for one or two of the 50kph signs.
It is only fitting that Col should have the last word as he brings the curtain down on a fantastic cycling career. "I really would like to thank everyone in Armidale Cycling Club who has participated in club racing over the years. Club races have always been an essential part of my preparation for the championship events I was targeting. The sport will not survive without this grass roots participation and we are so lucky in Armidale to have such a healthy club with races every weekend all year. Thank you all for your support and friendship, and enjoy your cycling." Col.
Northern Division Results
Year
Gold
Silver
Bronze
Total
Total
18
5
4
27
1989
1
RR
1
1991
1
ITT
1
1992
1
ITT
1
1993
1
ITT
1
1994
2
ITT, RR
2
1995
1
ITT
1
1996
1
RR
1
1997
2
Track
2
1998
1
RR
1
1999
2
RR, Track
1
Track
1
Crit
4
2000
1
Crit
1
2005
3
RR, ITT, Crit
3
2006
2
RR, ITT
1
3
Note ¹
3
2
5
Note ¹ 5 additional medals not engraved with year
Country NSW Results
Year
Gold
Silver
Bronze
Total
Total
3
2
0
5
1992
1
RR
1
1996
1
RR
1
1997
1
RR
1
1998
1
RR
1
1999
1
RR
1
NSW Masters Results
| Year | Gold | | Silver | | Bronze | | Total |
| --- | --- | --- | --- | --- | --- | --- | --- |
| Total | 38 | | 12 | | 8 | | 58 |
| 1995 | 1 | RR | | | 1 | ITT | 2 |
| 1996 | 1 | RR | | | 1 | ITT | 2 |
| 1997 | | | 1 | ITT | | | 1 |
| 1998 | | | | | 1 | RR | 1 |
| 1999 | | | | | 1 | ITT | 1 |
| 2000 | | | 1 | RR | 1 | ITT | 2 |
| 2001 | | | 2 | RR, ITT | | | 2 |
| 2002 | 1 | HC | 1 | ITT | | | 2 |
| 2003 | | | 1 | HC | | | 1 |
| 2004 | | | 1 | ITT | | | 1 |
| 2005 | 1 | HC | | | 1 | ITT | 2 |
| 2006 | 4 | HC, ITT, RR, Crit | | | | | 4 |
| 2007 | 1 | HC | | | | | 1 |
| 2008 | 1 | HC | 1 | ITT | | | 2 |
| 2009 | 3 | HC, RR, Crit | 1 | ITT | | | 4 |
| 2010 | 3 | HC, RR, Crit | 1 | ITT | | | 4 |
| 2011 | 3 | HC, RR, Crit | | | | | 3 |
| 2012 | 2 | HC, Crit | 1 | RR | | | 3 |
| 2013 | 3 | HC, RR, Crit | 1 | ITT | | | 4 |
| 2014 | 4 | HC, ITT, RR, Crit | | | | | 4 |
| 2015 | 4 | HC, ITT, RR, Crit | | | | | 4 |
| 2016 | 2 | HC, ITT | | | 2 | RR, Crit | 4 |
| 2017 | 4 | HC, ITT, RR, Crit | | | | | 4 |
Australian Masters Results
| Year | Venue | Gold | | Silver | | Bronze | | Total |
| --- | --- | --- | --- | --- | --- | --- | --- | --- |
| Total | | 11 | | 13 | | 8 | | 32 |
| 2000 | Calga | 1 | ITT | | | | | 1 |
| 2001 | Melbourne | 1 | Crit | 1 | ITT | | | 2 |
| 2004 | Sydney | | | | | 1 | RR | 1 |
| 2005 | Lancefield | 1 | ITT | | | 2 | RR, Crit | 3 |
| 2006 | Calga | 1 | RR | 1 | Crit | | | 2 |
| 2007 | Bachus Marsh | | | | Crit ³ | 1 | RR | 1 |
| 2009 | Canberra ² | 1 | RR | 1 | Crit | 1 | ITT | 3 |
| 2011 | Ballarat | | | 1 | RR | 1 | Crit | 2 |
| 2012 | Goulburn | | | 3 | ITT, Crit, RR | | | 3 |
| 2013 | Goulburn | | | 1 | ITT | 2 | RR, Crit | 3 |
| 2014 | Ballarat ² | 2 | ITT, RR | 1 | Crit | | | 3 |
| 2015 | Tweed ² | 2 | ITT, RR | 1 | Crit | | | 3 |
| 2016 | Griffith ² | 2 | ITT, RR | 1 | Crit | | | 3 |
| 2017 | Gold Coast | | | 2 | ITT, RR | | | 2 |
Note ² Awarded Australian Champion of Champions – most points over the 3 events
Note ³ Gave to Lasse Mikkelsen
World Masters Games
| Year | Gold | | Silver | | Bronze | | Total |
| --- | --- | --- | --- | --- | --- | --- | --- |
| Total | | | | | 3 | | 3 |
| 2002 | | | | | 1 | ITT | 1 |
| 2009 | | | | | 2 | ITT, RR | 2 |
HC – Hill Climb
ITT – Individual Time Trial
RR – Road Race
Crit – Criterium