It was perfect conditions for 30km of graded scratch racing on Saturday. The rolling Dangarsleigh course would give the grades chance to roll some solid turns in a large group; although with Col setting off some of the stronger riders in C & B grade at a 2 minute gap, there would be no armchair rides, much to Kirky's chagrin!
With all the groups rolling well, most riders were still in the mix for the finishing sprint, and the story of the day was Olive Tutt taking out the C grade sprint for a fine win – well done Olive!
B grade was another closely fought affair, with Hugh McKellar breaking the shackles on the home straight to power over the line – great work Hugh!
Last up was A grade, and as they powered over the last rise Mick Hoult went hard & early – and in spite of some desperate efforts to reel him in Houlty maintained his recent scintillating form to bring home the bacon – nice one Houlty!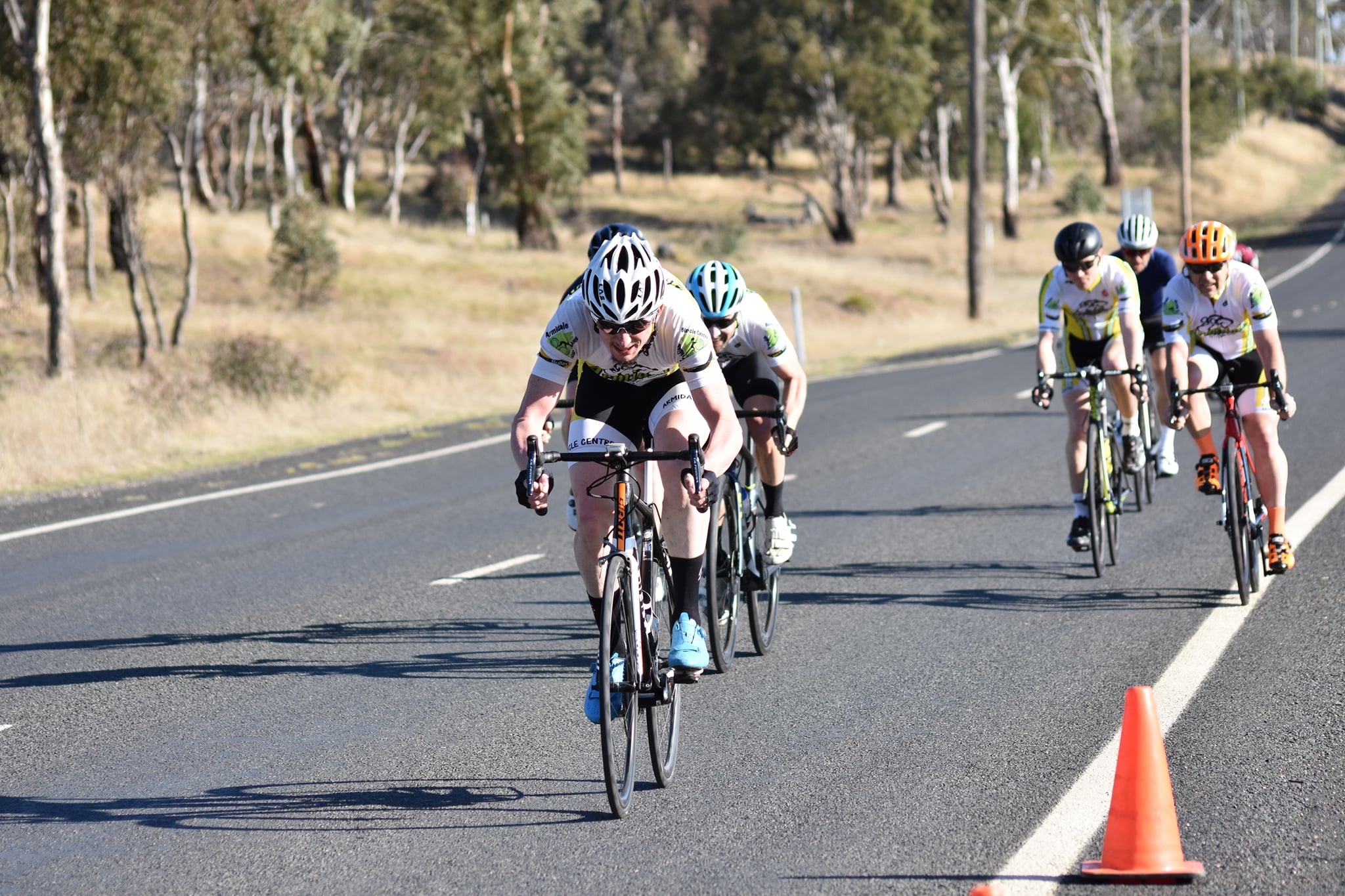 Thanks to Col for running the race, Phil Thomas for doing thr sign, and Holly for the great photos! Next week we return to Long Swamp for 30km of handicap racing.
| Rider | Date | Grade | Place | Finish | KM | Avg | | | |
| --- | --- | --- | --- | --- | --- | --- | --- | --- | --- |
| HOULT Michael | 2020-09-12 | A | 1 | 0:43:54 | 30 | 41.002 | 0 | 43 | 54 |
| BRENNAN Shaun | 2020-09-12 | A | 2 | 0:43:54 | 30 | 41.002 | 0 | 43 | 54 |
| SIMMONDS Jason | 2020-09-12 | A | 3 | 0:43:54 | 30 | 41.002 | 0 | 43 | 54 |
| SCOTT-HAMILTON John | 2020-09-12 | A | 4 | 0:43:54 | 30 | 41.002 | 0 | 43 | 54 |
| MUNDAY Dave | 2020-09-12 | A | 5 | 0:43:54 | 30 | 41.002 | 0 | 43 | 54 |
| FERRIS Pat | 2020-09-12 | A | 6 | 0:43:57 | 30 | 40.956 | 0 | 43 | 57 |
| HESS Phil | 2020-09-12 | A | 7 | 0:44:10 | 30 | 40.755 | 0 | 44 | 10 |
| | | | | | | | | | |
| MCKELLAR Hugh | 2020-09-12 | B | 1 | 0:47:20 | 30 | 38.028 | 0 | 47 | 20 |
| THOMAS Phil | 2020-09-12 | B | 2 | 0:47:21 | 30 | 38.015 | 0 | 47 | 21 |
| WILKINSON Richard | 2020-09-12 | B | 3 | 0:47:21 | 30 | 38.015 | 0 | 47 | 21 |
| CHRISTIE Rod | 2020-09-12 | B | 4 | 0:47:21 | 30 | 38.015 | 0 | 47 | 21 |
| TINDALE Rob | 2020-09-12 | B | 5 | 0:47:23 | 30 | 37.988 | 0 | 47 | 23 |
| BOURKE Dene | 2020-09-12 | B | 6 | 0:47:23 | 30 | 37.988 | 0 | 47 | 23 |
| KELLY Gareth | 2020-09-12 | B | 7 | 0:47:25 | 30 | 37.961 | 0 | 47 | 25 |
| INGLIS Toby | 2020-09-12 | B | 8 | 0:47:26 | 30 | 37.948 | 0 | 47 | 26 |
| HAYDON Mark | 2020-09-12 | B | 9 | 0:47:26 | 30 | 37.948 | 0 | 47 | 26 |
| SWAN Andrew | 2020-09-12 | B | 10 | 0:47:40 | 30 | 37.762 | 0 | 47 | 40 |
| BEDFORD Matt | 2020-09-12 | B+ | 11 | 0:48:57 | 30 | 36.772 | 0 | 48 | 57 |
| WESTON Brent | 2020-09-12 | B+ | 12 | 0:48:59 | 30 | 36.747 | 0 | 48 | 59 |
| KIRK Andrew | 2020-09-12 | B+ | 13 | 0:49:00 | 30 | 36.735 | 0 | 49 | 0 |
| MCPHIE Lachie | 2020-09-12 | B | 14 | 0:48:34 | 30 | 37.062 | 0 | 48 | 34 |
| BOURKE Clint | 2020-09-12 | B+ | 15 | 0:51:03 | 30 | 35.260 | 0 | 51 | 3 |
| SINGLETON Michael | 2020-09-12 | B | 16 | 0:51:40 | 30 | 34.839 | 0 | 51 | 40 |
| INGLIS Marty | 2020-09-12 | B | | | 30 | | | | |
| HOSKING Peter | 2020-09-12 | B+ | | | 30 | | | | |
| | | | | | | | | | |
| TUTT Oliver | 2020-09-12 | C | 1 | 0:54:06 | 30 | 33.272 | 0 | 54 | 6 |
| KEARNEY Fred | 2020-09-12 | C | 2 | 0:54:07 | 30 | 33.261 | 0 | 54 | 7 |
| WAUCH Jo | 2020-09-12 | C | 3 | 0:54:08 | 30 | 33.251 | 0 | 54 | 8 |
| KING Jacqui | 2020-09-12 | C | 4 | 0:54:09 | 30 | 33.241 | 0 | 54 | 9 |
| FREEMAN Hayden | 2020-09-12 | C+ | 5 | 0:54:55 | 30 | 32.777 | 0 | 54 | 55 |
| CREAGAN Peter | 2020-09-12 | C | 6 | 0:54:55 | 30 | 32.777 | 0 | 54 | 55 |
| WILKINSON Peter | 2020-09-12 | C+ | 7 | 0:55:05 | 30 | 32.678 | 0 | 55 | 5 |
| KELLER Wilfried | 2020-09-12 | C | 8 | 0:58:22 | 30 | 30.840 | 0 | 58 | 22 |