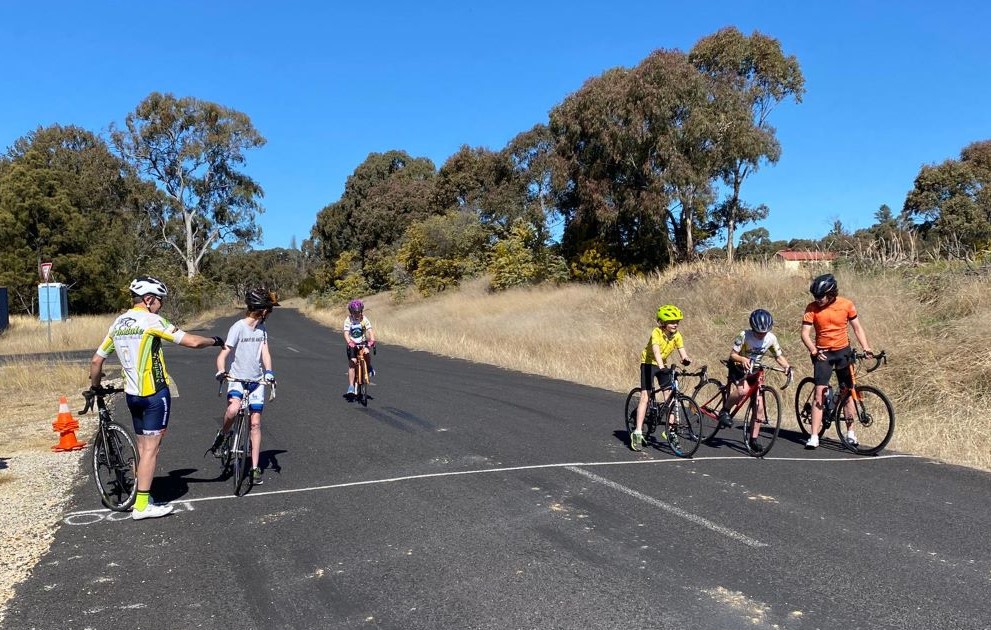 Six juniors fronted the Traffic Education Centre today to strut their stuff, basking in the beautiful late winter weather (such a change from the last time they battled the TEC course!). All riders were keen to improve on their PBs, and with hardly a breath of wind to contend with, fast times were all but guaranteed.
Following a few warmup laps practising close riding skills, the riders launched themselves into their ITTs. The promise of fast times was not ignored, with Jo 'The Jet' Nano ripping a whopping five seconds of his PB to complete the course in 2:21; the Smiling Assassin, Tahlia Harper equalling her PB of 2:56; Bernie 'Lead Legs' May one second off his PB of 2:11; Tommy 'Pocket Rocket' Page a mere 2 seconds behind his 2:51 PB, Dempsey 'Powerhouse' Burton a neat 2 minutes (3 seconds slower than his PB) and Aalya 'Mini Me' Harper stripping 4 seconds off her half lap PB to record a new time of 2:21.
After a well deserved rest, the crew tacked the witches hat chicane, rediscovering the joy of ultra slow cornering skills, designed to improve balance and concentration. The afternoon finished off with a one lap relay race, with the team of Tommy, Bernie and Dempsey too strong for the opposition of Tahlia and Jo, who had to deal with the added handicap of Coach May anchoring their team.
Following their efforts at the TEC, Dempsey Jo and Bernie then backed up to have a crack at the Long Swamp course, completing 15km under the expert tutelage of Wilf Keller (Thanks Wilf!), and from all accounts had a great time out there.
Many thanks to everyone for their efforts today, and Ben Page for the great photos!
Junior ITT Results
| row_id | Date | race_location | Rider Name | Start | Elapsed | Actual Time | race_distance | Personal Best |
| --- | --- | --- | --- | --- | --- | --- | --- | --- |
| 2,317 | 29 Aug 2020 | Armidale TEC | Tahlia Harper | 00:00:00 | 00:02:56 | 00:02:56 | 1.20 | 00:02:47 |
| 2,318 | 29 Aug 2020 | Armidale TEC | Thomas Page | 00:00:30 | 00:03:23 | 00:02:53 | 1.20 | 00:02:51 |
| 2,319 | 29 Aug 2020 | Armidale TEC | Jo Nano | 00:01:00 | 00:03:21 | 00:02:21 | 1.20 | New PB - was 00:02:26 |
| 2,320 | 29 Aug 2020 | Armidale TEC | Bernard May | 00:01:30 | 00:03:42 | 00:02:12 | 1.20 | 00:02:11 |
| 2,321 | 29 Aug 2020 | Armidale TEC | Dempsey Burton | 00:02:00 | 00:04:00 | 00:02:00 | 1.20 | 00:01:57 |
| 2,322 | 29 Aug 2020 | Armidale TEC | Aayla Harper | 00:02:30 | 00:04:51 | 00:02:21 | 1.20 | 00:02:19 |
| 2,310 | 15 Aug 2020 | Armidale TEC | Tahlia Harper | 00:00:00 | 00:02:57 | 00:02:57 | 1.20 | 00:02:47 |
| 2,311 | 15 Aug 2020 | Armidale TEC | Thomas Page | 00:00:30 | 00:03:34 | 00:03:04 | 1.20 | 00:02:51 |
| 2,312 | 15 Aug 2020 | Armidale TEC | Elliot Scott-Hamilton | 00:01:00 | 00:03:35 | 00:02:35 | 1.20 | 00:02:34 |
| 2,313 | 15 Aug 2020 | Armidale TEC | Richard May | 00:01:30 | 00:04:02 | 00:02:32 | 1.20 | 00:02:04 |
| | Date | | Rider Name | | | | | |