We had 9 eager juniors (and a couple of parents) lined up for the inaugural Junior Cycling Zwift group ride & race, including a sibling swap between the ride and the race – great teamwork Page family! The schedule was a 30 minute warmup & interval session on the London Classique course before the riders were take to the start pen for a 1 lap 5.7km race.
Pictures tell a thousand words – suffice to say that in spite of a few technical difficulties a great time was had by all!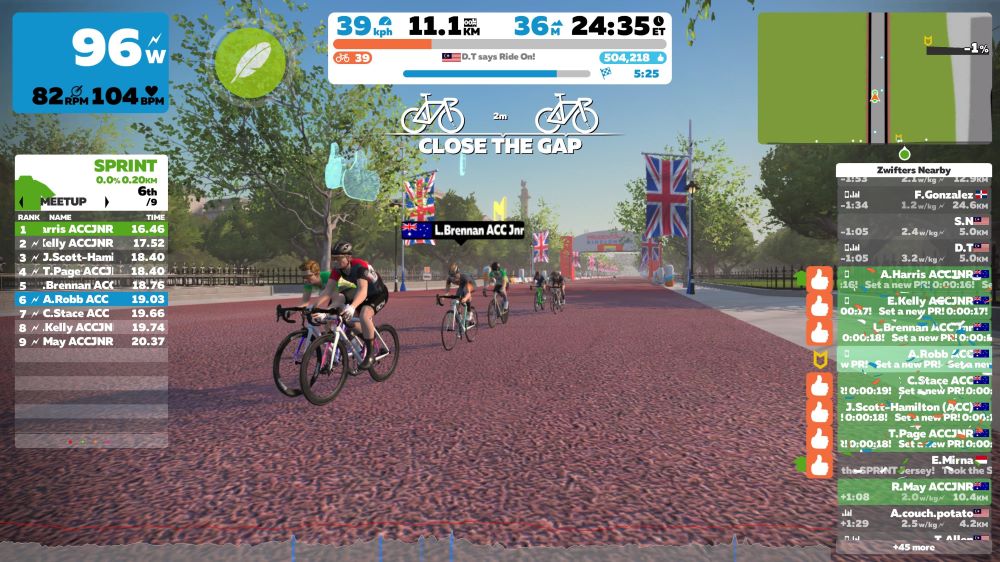 Race time's are below, and there's is also a link to the Twitch race live stream.
https://www.twitch.tv/acc_racing_live
Many thanks to the parents for their help with getting their juniors up & running, and we hope to see everyone back again this Saturday to see if they can beat their race time!
| Rider | Position | Date | Course | KM | Time |
| --- | --- | --- | --- | --- | --- |
| MAY Richard | 1 | 2/5/2020 | London Classique | 5.7 | 8:12 |
| MAY Bernie | 2 | 2/5/2020 | London Classique | 5.7 | 9:51 |
| BURTON Dempsey | 3 | 2/5/2020 | London Classique | 5.7 | 10:40 |
| WILLIAMS Alanah | 4 | 2/5/2020 | London Classique | 5.7 | 10:49 |
| PAGE Isabella | 5 | 2/5/2020 | London Classique | 5.7 | 10:49 |
| KELLY Euan | 6 | 2/5/2020 | London Classique | 5.7 | 11:04 |
| BRENNAN Lincoln | 7 | 2/5/2020 | London Classique | 5.7 | 12:23 |