After last years L'Etape saw gale force winds and driving rain reduce the event to a shortened race that only the hardiest souls were game to tackle, it was great to see Armidale Cycling Club was once again well represented at this years event. A motley crew of 7 club riders, plus ACC old boy Josh Denham lined up to take on the fearsome Beloka "wall", and the punishing 24 km climb up to the Perisher ski resort. Thankfully this year the weather gods shined on the event, as 3000 riders were greeted by glorious sunny weather as they rolled out across the started line, with temperatures topping out at 28 degrees as the day progressed.
Despite feigning man-flu, John Scott-Hamilton shot ahead at the start, and the Eagle wouldn't be seen again until he was kicking back with a cold drink at the finish line! Josh was an equally impressive starter, and riding towards the front of the race laden down with a fistful of gels he completed the course non-stop in an impressive 5hrs 45min.
The remaining ACC riders grouped up with one of the main peletons, and were joined later in the ride by Elite Womens World silver medalist Amanda Spratt, who was a great sport for riding with the bunch all the way to the Beloka climb, at which point gravity took over and she danced away as the amateurs struggled up the punishing gradients.
A regroup & refuel at the top of Beloka had riders ready to roll down to Jindabyne and around the lake before moving onto the final challenge for the long drag up to the Perisher ski resort. And what a climb it was, with a strong headwind and the hot weather putting riders on their limit as they pushed up the slopes, all while the lead racers were flying back down the descent to the finish at speeds in excess of 80kmh.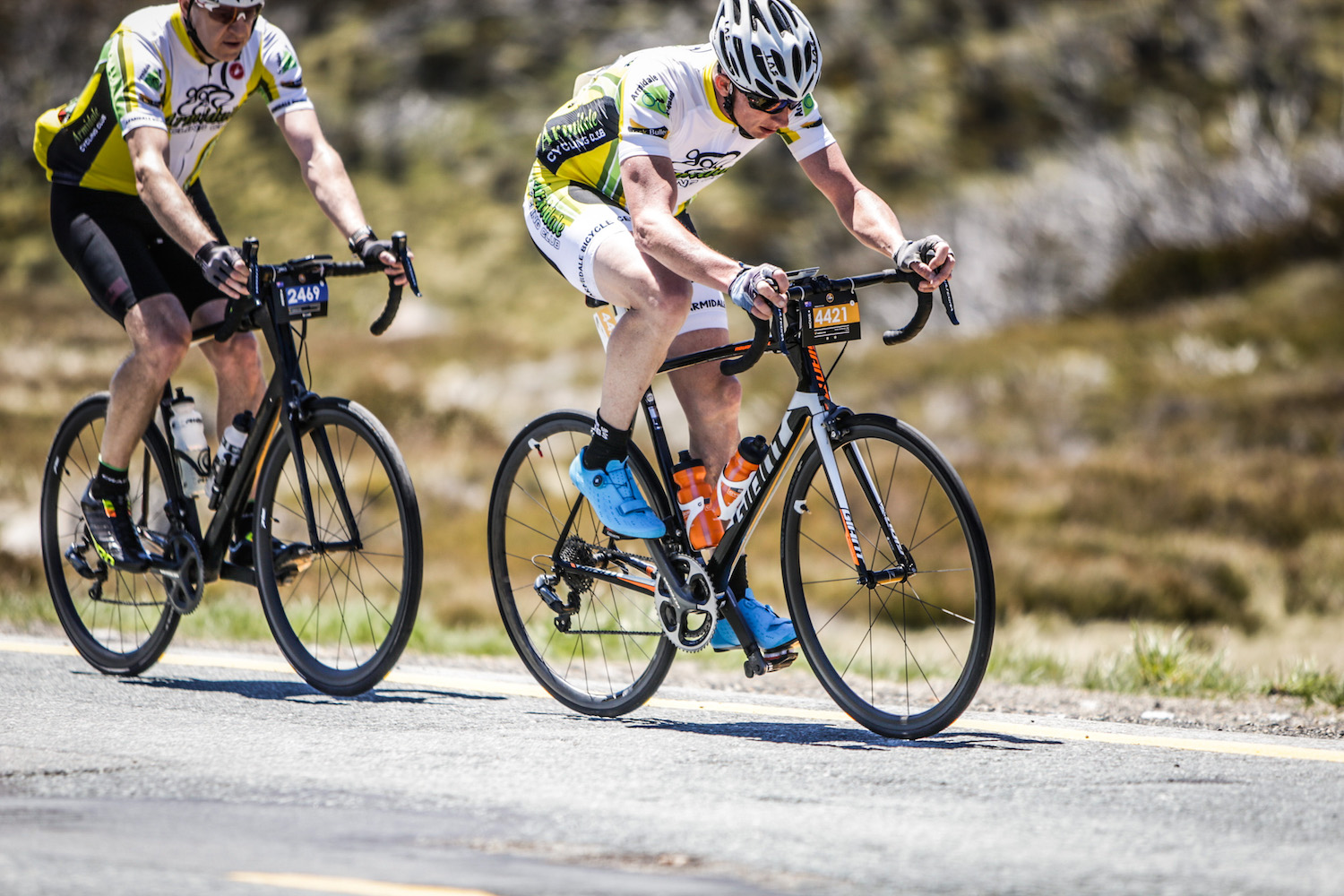 It was no surprise that there was a standout performance on the climb by iron-man Mick Hoult, whose combined KOM times placed him 63rd amongst all riders…top work Mick!
After the exertions of the Perisher climb, a high speed descent and a final set of rolling hills, it was weary legs & aching bodies that crossed the finish line; and after 170km of riding with 3000m of climbing tired smiles and cold beers were very much the order of the day.
Well done to Rob Tindale, Lachie McPhie, John Scott-Hamilton, Mick Hoult, Andy Robb, Billy Mara and Josh Denham…same time & place next year fellas?!