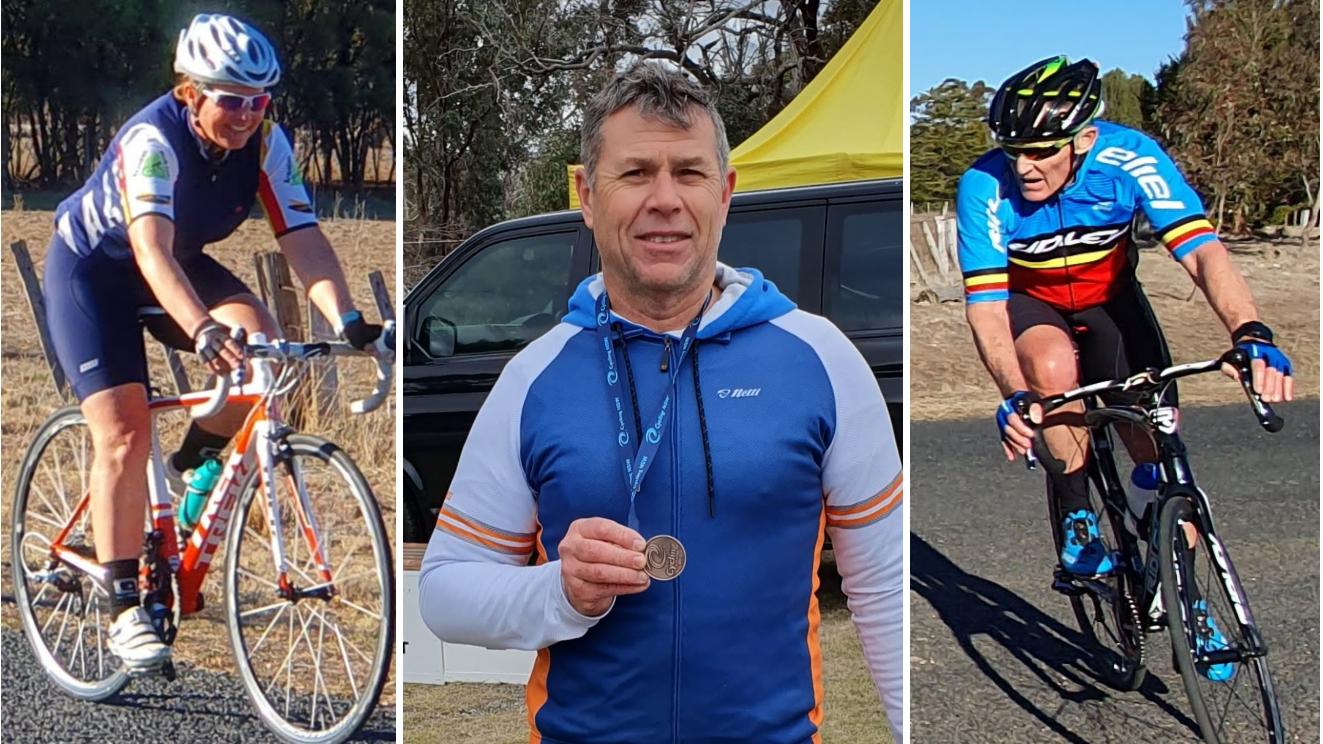 As we enter the latter stages of the 2019 racing season, the Road Racer of the Year 2019 title race remains wide-open. With a remaining maximum of up to 20 points up for grabs, any of the riders currently in the top 10 having a realistic chance of taking out the title.
Current front-runner Richard Wilkinson is seeing the rewards for consistency, being ever-present throughout the season. But hot on his heels and sporting a freshly minted NSW Masters bronze medal is John Scott-Hamilton, with Mark Haydon and Jacqui King also notable for making a late charge.
So with only 2 rounds left, its time to buy the handicapper a beer, lube the drivetrain, plonk on an aero helmet…its the final countdown!!
2019 RROTY STANDINGS
| Rank | Rider | Races | First | Second | Third | Fourth | Fifth | Signs | Points | Pts/Race | Last 5 Rounds |
| --- | --- | --- | --- | --- | --- | --- | --- | --- | --- | --- | --- |
| 1 | WILKINSON Richard | 10 | 1 | 0 | 1 | 1 | 0 | 0 | 46 | 4.60 | 23,16,16,3,7 |
| 2 | SCOTT-HAMILTON John | 8 | 0 | 1 | 1 | 1 | 0 | 0 | 39 | 4.88 | 14,7,7,2,4 |
| 3 | KING Jacqui | 7 | 1 | 1 | 0 | 0 | 1 | 0 | 37 | 5.29 | 6,2,11,1,8 |
| 4 | STACE Chris | 9 | 0 | 0 | 2 | 0 | 0 | 0 | 37 | 4.11 | 4,DNS,6,22,11 |
| 5 | HAYDEN Mark | 7 | 1 | 0 | 0 | 0 | 2 | 1 | 35 | 5.00 | DNS,24,1,24,DNS |
| 6 | FERRIS Pat | 8 | 0 | 0 | 0 | 1 | 2 | 0 | 34 | 4.25 | 19,10,DNS,4,5 |
| 7 | BELSON Chris | 7 | 0 | 2 | 0 | 0 | 0 | 0 | 33 | 4.71 | 2,19,DNS,15,DNS |
| 8 | BOURKE Dene | 10 | 0 | 0 | 0 | 0 | 1 | 0 | 33 | 3.30 | 13,9,5,7,12 |
| 9 | THOMAS Alex | 7 | 0 | 0 | 1 | 1 | 0 | 0 | 30 | 4.29 | DNS,DNS,13,6,DNS |
| 10 | MAY Andrew | 8 | 0 | 1 | 0 | 0 | 0 | 0 | 30 | 3.75 | 24,8,17,DNS,10 |
| 11 | MARA Billy | 7 | 0 | 0 | 1 | 0 | 1 | 0 | 29 | 4.14 | DNS,11,23,5,DNS |
| 12 | KELLER Wilfried | 9 | 0 | 0 | 0 | 0 | 0 | 1 | 28 | 3.11 | 8,23,21,14,9 |
| 13 | MEEHAN Emily | 5 | 1 | 0 | 0 | 0 | 1 | 0 | 25 | 5.00 | DNS,17,20,DNS,DNS |
| 14 | HOULT Michael | 6 | 0 | 0 | 1 | 0 | 0 | 2 | 25 | 4.17 | 16,4,22,DNS,DNS |
| 15 | BOURKE Clint | 8 | 0 | 0 | 0 | 0 | 0 | 0 | 24 | 3.00 | 11,13,18,18,14 |
| 16 | HARRIS Michael | 4 | 1 | 0 | 0 | 1 | 0 | 0 | 23 | 5.75 | DNS,DNS,DNS,11,1 |
| 17 | WESTON Brent | 3 | 1 | 1 | 0 | 0 | 0 | 0 | 22 | 7.33 | 10,1,2,DNS,DNS |
| 18 | HOSKING Katherine | 5 | 1 | 0 | 0 | 0 | 0 | 0 | 22 | 4.40 | DNS,DNS,15,23,13 |
| 19 | SIMMONDS Jason | 6 | 0 | 0 | 0 | 1 | 0 | 0 | 22 | 3.67 | 15,5,DNS,DNS,DNS |
| 20 | BRENNAN Shaun | 6 | 0 | 0 | 0 | 1 | 0 | 0 | 22 | 3.67 | DNS,DNS,DNS,13,DNS |
| 21 | THOMAS Phil | 5 | 0 | 0 | 1 | 0 | 0 | 0 | 20 | 4.00 | DNS,14,3,DNS,DNS |
| 22 | TINDALE Rob | 6 | 0 | 0 | 0 | 0 | 0 | 1 | 19 | 3.17 | DNS,15,Signs,21,DNS |
| 23 | FREEMAN Haydon | 2 | 1 | 0 | 1 | 0 | 0 | 0 | 18 | 9.00 | DNS,DNS,DNS,DNS,DNS |
| 24 | MARSHALL Oliver | 4 | 0 | 1 | 0 | 0 | 0 | 0 | 18 | 4.50 | DNS,DNS,9,DNS,2 |
| 25 | ROBB Andy | 3 | 0 | 0 | 0 | 0 | 2 | 0 | 15 | 5.00 | 21,6,DNS,DNS,DNS |
| 26 | HARRIS Holly | 5 | 0 | 0 | 0 | 0 | 0 | 0 | 15 | 3.00 | DNS,DNS,12,10,6 |
| 27 | TUTT Olive | 3 | 0 | 0 | 0 | 1 | 0 | 1 | 14 | 4.67 | DNS,12,4,DNS,DNS |
| 28 | PAUL Nathan | 3 | 0 | 0 | 0 | 1 | 0 | 0 | 13 | 4.33 | DNS,DNS,DNS,DNS,DNS |
| 29 | JENNER Dave | 4 | 0 | 0 | 0 | 0 | 0 | 0 | 12 | 3.00 | DNS,21,DNS,DNS,DNS |
| 30 | WILLIAMS Paul | 4 | 0 | 0 | 0 | 0 | 0 | 0 | 12 | 3.00 | 17,DNS,DNS,12,DNS |
| 31 | PLUMMER Nick | 1 | 1 | 0 | 0 | 0 | 0 | 0 | 10 | 10.00 | DNS,DNS,DNS,DNS,DNS |
| 32 | PLUMMERS Nick | 1 | 1 | 0 | 0 | 0 | 0 | 0 | 10 | 10.00 | 1,DNS,DNS,DNS,DNS |
| 33 | WAUCH Jo | 2 | 0 | 0 | 0 | 1 | 0 | 0 | 10 | 5.00 | 5,DNS,DNS,DNS,DNS |
| 34 | APPS Angus | 1 | 0 | 1 | 0 | 0 | 0 | 0 | 9 | 9.00 | DNS,DNS,DNS,DNS,DNS |
| 35 | HAYDON Mark | 1 | 0 | 1 | 0 | 0 | 0 | 0 | 9 | 9.00 | DNS,DNS,DNS,DNS,DNS |
| 36 | WHITFORD Paul | 1 | 0 | 1 | 0 | 0 | 0 | 0 | 9 | 9.00 | DNS,DNS,DNS,DNS,DNS |
| 37 | KIRK Andrew | 3 | 0 | 0 | 0 | 0 | 0 | 0 | 9 | 3.00 | DNS,DNS,DNS,9,DNS |
| 38 | MILLER Codie | 3 | 0 | 0 | 0 | 0 | 0 | 0 | 9 | 3.00 | 12,DNS,DNS,20,DNS |
| 39 | MCKELLAR Hugh | 3 | 0 | 0 | 0 | 0 | 0 | 0 | 9 | 3.00 | 9,DNS,14,DNS,DNS |
| 40 | WOOSTER Emily | 3 | 0 | 0 | 0 | 0 | 0 | 0 | 9 | 3.00 | DNS,DNS,19,17,DNS |
| 41 | GRIFFITHS Bryn | 3 | 0 | 0 | 0 | 0 | 0 | 0 | 9 | 3.00 | DNS,20,DNS,DNS,DNS |
| 42 | REES Brent | 1 | 0 | 0 | 1 | 0 | 0 | 0 | 8 | 8.00 | DNS,DNS,DNS,DNS,3 |
| 43 | MUNDAY Dave | 2 | 0 | 0 | 0 | 0 | 0 | 1 | 7 | 3.50 | DNS,DNS,8,DNS,SIGNS |
| 44 | CREAGAN Peter | 2 | 0 | 0 | 0 | 0 | 0 | 0 | 6 | 3.00 | DNS,DNS,10,19,DNS |
| 45 | WILKINSON Peter | 2 | 0 | 0 | 0 | 0 | 0 | 0 | 6 | 3.00 | DNS,DNS,DNS,DNS,DNS |
| 46 | HOSKING Pete | 2 | 0 | 0 | 0 | 0 | 0 | 0 | 6 | 3.00 | DNS,DNS,DNS,8,15 |
| 47 | WILKINSON Pete | 2 | 0 | 0 | 0 | 0 | 0 | 0 | 6 | 3.00 | 18,22,DNS,DNS,DNS |
| 48 | SWAN Andrew | 2 | 0 | 0 | 0 | 0 | 0 | 0 | 6 | 3.00 | 7,25,DNS,DNS,DNS |
| 49 | MCPHIE Lachie | 3 | 0 | 0 | 0 | 0 | 0 | 0 | 6 | 2.00 | 3,DNS,DNS,DNS,DNS |
| 50 | GRIFFITH Bryn | 1 | 0 | 0 | 0 | 0 | 0 | 1 | 4 | 4.00 | DNS,DNS,DNS,DNS,DNS |
| 51 | KING Sam | 1 | 0 | 0 | 0 | 0 | 0 | 1 | 4 | 4.00 | DNS,DNS,DNS,DNS,DNS |
| 52 | HOSKING Isabella | 1 | 0 | 0 | 0 | 0 | 0 | 0 | 3 | 3.00 | DNS,DNS,DNS,16,DNS |
| 53 | HOOTON Carl | 1 | 0 | 0 | 0 | 0 | 0 | 0 | 3 | 3.00 | DNS,18,DNS,DNS,DNS |
| 54 | CREAGEN Peter | 1 | 0 | 0 | 0 | 0 | 0 | 0 | 3 | 3.00 | 20,DNS,DNS,DNS,DNS |
| 55 | SIMMONDS Tom | 1 | 0 | 0 | 0 | 0 | 0 | 0 | 3 | 3.00 | 22,DNS,DNS,DNS,DNS |
| 56 | KENNEDY Helen | 1 | 0 | 0 | 0 | 0 | 0 | 0 | 3 | 3.00 | DNS,DNS,DNS,DNS,DNS |
| 57 | JENKINS Ross | 1 | 0 | 0 | 0 | 0 | 0 | 0 | 3 | 3.00 | DNS,DNS,DNS,DNS,DNS |
| 58 | SIMMONDS Jane | 1 | 0 | 0 | 0 | 0 | 0 | 0 | 3 | 3.00 | DNS,26,DNS,DNS,DNS |
| 59 | HARRIS Dave | 1 | 0 | 0 | 0 | 0 | 0 | 0 | 3 | 3.00 | DNS,DNS,DNS,DNS,DNS |
| 60 | HISCOX John | 1 | 0 | 0 | 0 | 0 | 0 | 0 | 3 | 3.00 | DNS,DNS,DNS,DNS,DNS |
| 61 | BARKER Lachlan | 1 | 0 | 0 | 0 | 0 | 0 | 0 | 3 | 3.00 | DNS,DNS,DNS,DNS,DNS |
| 62 | TALBOT Brodie | 1 | 0 | 0 | 0 | 0 | 0 | 0 | 0 | 0.00 | DNS,3,DNS,DNS,DNS |
| Rank | Rider | Races | First | Second | Third | Fourth | Fifth | Signs | Points | Pts/Race | Last 5 Rounds |